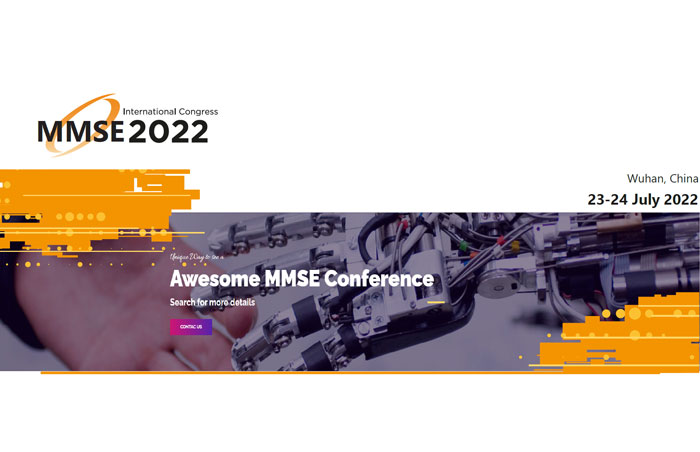 The 8th International Conference on Advances in Machinery, Material Science and Engineering Application (MMSE 2022) will be happening at Academic Exchange Center, China University of Geosciences, China, from July 23 to 24th, 2022. Since its creation in 2010, it organized by Wuhan University of Science and Technology, Huazhong University of Sciences and Technology, China University of Geosciences. Over the past 11 years, the MMSE Congresses traditionally collate the recent advances and experiences, identify emerging technology trends and engage in lively debates that have positively impacted our world from operators, authorities and associations from around the world to help address the world's machinery and material engineering challenges.
MMSE 2022 cooperates with
ISAE-SUPMECA/PARIS
University of Hudersfield,
Hubei Digital Textile Equipment Key Laboratory, China
East-Siberian State University of Technology and Management
MMSE 2022 TOPICS, submissions of a multidisciplinary nature or in new and emerging areas are also welcome. Principal topics focus on:
Automation, Robotics and Control
Applied Mechanics
Intelligent Manufacturing Technology for the Future
Micro and Nano Engineering
Mechanical Design and Vehicle Engineering
Industrial Engineering & Design
Heat Transfer, Combustion
Advanced Materials
Special Topic: Digital Textile Equipment and Textile Machinery
Conference Publication & Indexing
Regular Accpeted papers will be published in the MMSE conference proceeding and submitted to main databases:
Ei Compendex
Scopus, CNKI
Inspec (IET)
Google Scholar
Submit your paper today!
Dr. Chen : mmse2022@163.com https://www.mmseconf.com
Submission Deadline
30 June 2022
Conference Chairs
Seeram Ramakrishna, National University of Singapore
Emin Bayraktar, ISAE-SUPMÉCA/PARIS
Journal Special Issues
For high quality papers to be published in SCI/SICE indexed journals, please consult the organizing committee before submission.