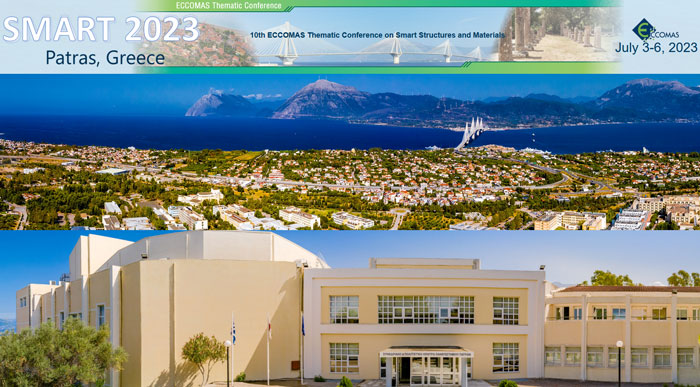 SMART2023 • July 3-6, 2023, Patras, Greece
The 10th edition of the SMART2023 ECCOMAS Thematic Conference will be organized on 3-6 July 2023 at the University of Patras, Patras, Greece, located at the beautiful west coast of Peloponnese and Western Greece. https://www.smart2023.eu
SMART2023 aims to provide a comprehensive forum for presenting and discussing the current state of the art in the field of smart structures and materials, as well as, to developing future ideas on a multidisciplinary level.
Scientists of international prestige in the field of the conference have confirmed their participation as Plenary Speakers. Also, select papers can be considered for publication in special-issues in leading journals.
You are invited to submit your abstract to either one of the 22 confirmed Special-Sessions and Mini-Symposia, or to the general sessions of the conference.
Abstract submission for the SMART2023 Conference is now open https://www.smart2023.eu/index.php/authors/abstract-submission and will remain open until January 15, 2023.
For additional details about the conference and to stay up to date with the latest information, please visit the conference website. Questions may be addressed to the conference secreteriat at smart2023@upatras.gr
Important Conference dates:
Abstract submission: Jan. 15, 2023
Abstract acceptance notification: Feb. 15, 2023
Full paper submission (Mandatory): Mar. 31, 2023
Early Registration: Mar. 31, 2023
Contacts :