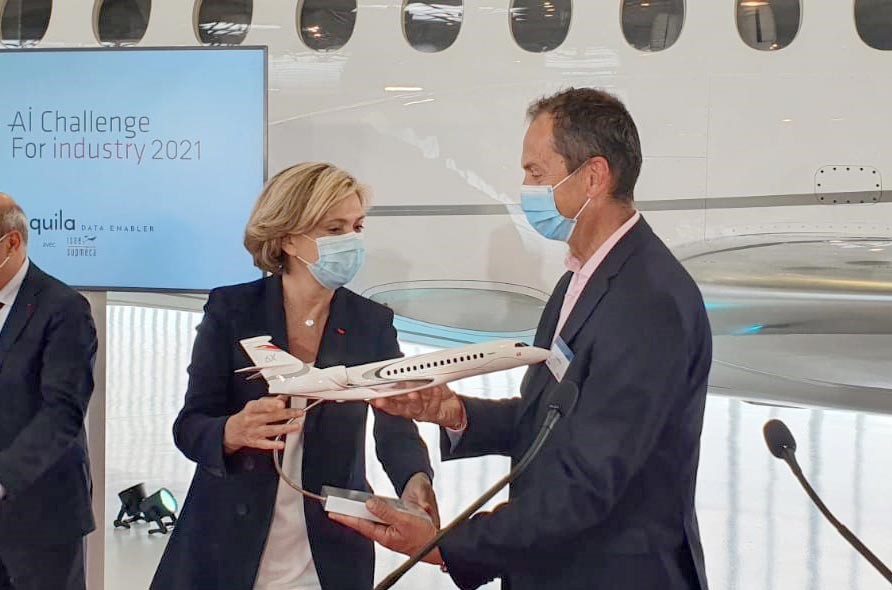 ISAE‑Supméca is proud to announce that the project that was developed with start-up consulting-firm Aquila Data Enabler has won the AI Challenge for Industry organised by the Île-de-France region and Dassault Aviation. This project was the opportunity to combine ISAE-Supméca's mechanical expertise and skills in artificial intelligence with Aquila's data science solutions. The challenge was to use artificial intelligence and virtual sensors to predict aircraft component wear and optimise the related maintenance procedures.
The results were announced on 28 May 2021 at Le Bourget, Seine-Saint-Denis (Paris conurbation). The AI Challenge for Industry 2021 was won by the consortium that comprised ISAE-Supméca's Quartz laboratory and Aquila Data Enabler, a French consulting firm that is currently playing a leading role in the field of artificial intelligence (AI).
The challenge ran between 18 November and 31 December 2020. It was co-organised by the Île-de-France region and Dassault Aviation in partnership with Startup Inside, the Astech and Systematic competitiveness clusters of the Île-de-France region, as well as Paris-Saclay University. The winners were to receive €500,000 in funding from the Île-de-France region in order to support subsequent collaboration with Dassault Aviation.
Using virtual sensors to study aircraft component wear in flight
The challenge was to develop virtual sensors (based on data provided by Dassault Aviation) that are capable of assessing local structural-deformations sustained by aeroplanes in service, using nothing else but instrument panel data.
During the two-month selection process 10 candidate teams proposed more than 1,000 algorithms in total.
According to Dassault Aviation CEO Eric Trappier these algorithms "must enable us, through a more detailed knowledge of the mechanical stress suffered by aircraft in service, to optimise our maintenance programs and to propose lighter and therefore more fuel-efficient structures".